SalesBridges
Supporting Strut 250 Handi Formwork
Supporting Strut 250 Handi Formwork
Product description
Superplate 15.0 Handi Formwork
Super-lightweight framed formwork HANDI

The universal super-lightweight formwork for working without crane
Handi is a lightweight framed formwork system, which has been specially designed for quick and cost-saving construction. Thanks to its lightweight panels the forming process is effectively implemented by hand. Consequently, the Handi system suits best for forming of foundations, small aboveground and underground concreting work in projects with limited use of crane or without it and with difficulties in use of heavy framed formwork systems (e.g. Varimax system). In addition, it has made a good use in small projects such as villas, private houses, living compounds etc.
We empanel the formworksystem for to your needs. Send us details about your project for a quotation at [email protected]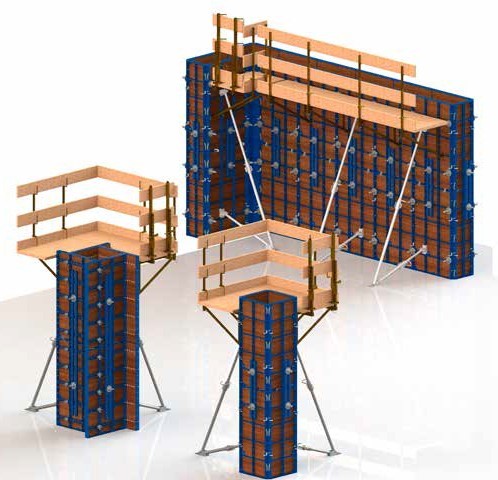 Load-bearing capacity:
• 35 kN/m² pressure of fresh concrete
• High quality film faced plywood with thickness of 15mm. Film weight 240g/m2
Cost-effective
• Universal application of the Handi system will give you an opportunity to use one system for variety of different tasks.
• Reduction of expenses due to minimization of crane usage.
• High number of use cycles means lower follow-up
expenses.
• Reduction of expenses by means of restoration and cleaning possibilities.
• Galvanized or powder-coated steel frames, for
long service life.
• High quality of concrete surface minimizes finishing work.
Areas of use of the Handi system:
• Wall formwork
• Column formwork
• Foundation formwork

Easy to use
• Having a grid of standard panel sizes provides much easier planning and forming.
• All the connectors and accessories are easily fixed
into the slots and quickly tighten, consequently forming time is efficient and maximized.
• Ergonomic of the system ensures fast and save
assembly
Safe use
• Accessories such as — lifting hooks, wall brackets, supporting struts etc. make for save and easier handling of the system.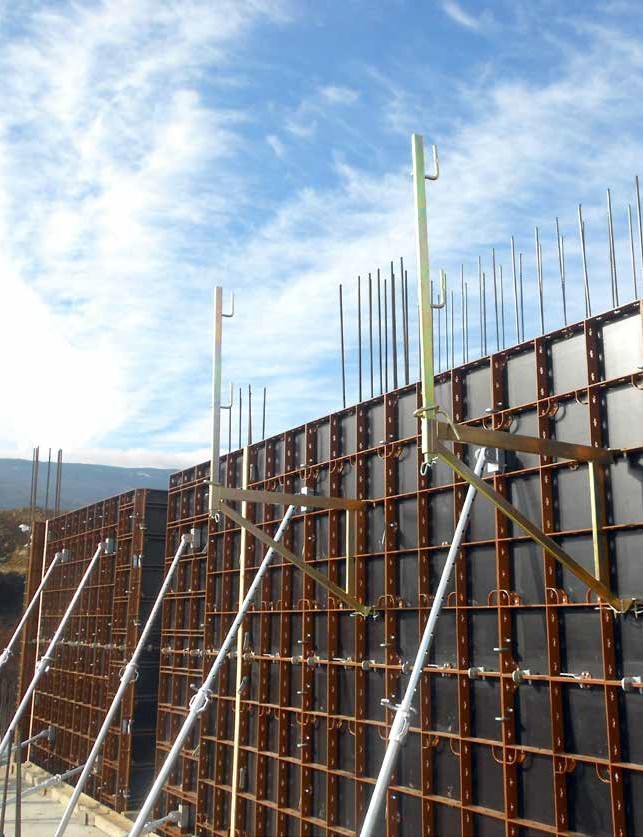 HANDI panels
The heights and widths of the Handi panels result in a logical and advantageous increment-grid. Small amount of different panels sizes makes planning easier and forming faster.
• 7 widths of panel
• 3 heights of panel
• 5 versatile panels
VERSATILE PANELS
The special hole pattern makes these panels particularly suitable for efficient forming of:
• Corners
• Wall junctions
• Columns
Accessories
A. CLIP
For Handi panels connection use binding clip. Install the clip into the slot and turn it 90°- elements are firmly connected.

B. BINDING CLIP
For Handi panes connection binding clips can also be used.
C. 5-PIN CLAMP FOR COMPENSATION OF LINEAR EXTENSIONS
In case of compensation of linear extensions (1-7 cm) between the panels connect panels with 5-pin clamp. Installation of the 5-pin clamp is identical to the installa-tion of the clip.
We empanel the formworksystem for to your needs. Send us details about your project for a quotation at [email protected]
Product information
| | |
| --- | --- |
| Brand | SalesBridges |
| Article code | SBF13702 |
| SKU | SBF13702 |
| EAN | 2007730351110 |