Silos for grain storage and processing
SILOS - CEREAL DRYERS - TRANSPORT EQUIPMENT - ACCESSORIES EQUIPMENT - SEPERATORS
1- SILOS
Silos Range in General : 4.6 cubic meter (3 tons of wheat) to 27000 cubic meter (21606 tons of wheat) also our conveyors and elevators range from 40t/h to 220t/h with a complete range of steel structures support gate valves, ducts and pipes. 
Farm hopper silos range: 1.8 meter to 3.6 meter diameter, capacity from 4.6 cubic meter to 50 cubic meter,
All our silos are produced using top class global components Wuppermann Stahl Gmbh steel sheets starting from  and our conveyors and elevators using Bauer, Siemens and Nord gears and motors and NSK Japanese Bearings.
Silo General Specs: - type of steel S350GD+Z350, manufacturer: Wuppermann Stahl GmbH; * yield strength of steel: min 350 МPa; * tensile strength: min 420 МPa; * zinc coating mass: 350 g/m²; - silo roof is made of galvanized steel with an angle of inclination 30°, the roof construction is made with 100% overlap of the sheets, height of the skate not less than 72 mm;   four rows of the bolts in a place of connection of the shell plates (from 2 to 4 rows for the FERM series); - fetch of wave of the panels: 67 mm; - service snow load: 180 kg/m² (up to 240 kg/m² on client's demand); - service wind load: 73 kg/m²; - basic webbing system: vertical W-type webbing 3 pcs per plate (2 pcs in silos FERM with diameter Ø16,5 м and less); - exterior and roof ladders; - maintenance and roof hatches; - fasteners: the bolts of resistance class 8,8 pts и 10,9 pts (due to the functional purposes manufacturer: PJSC "Druzhkovka Hardware Plant" in set with nuts, washers, thickening gaskets, sealing cords, manufacturer: AquaProtect; - system of the silo fastening to the concrete foundation: chemical anchor bolts, manufacturer: HILTI, PROFIX
our factory:
Over 25 years of experience
Specializing in steel, stainless steel, & aluminum  processing: rolling, forming, bending, corrugating, cutting, punching, welding, galvanizing and/or painting
480 Skilled employees: 54 engineers
16,000 sqm areas of production facilities
14,000 tonnes of processed steel per year
Serving industrialists in 4 continents (Europe, America, Asia, & Africa),
Plasma Arc, Gas (TIG, MIG ...) welding workshops
Laser cutting and punching equipment (Trumatic L4050, trulaser 3040, trulaser 3030, trupunch 3000, bochesrt TRI)
CNC bending machines
Hot stamp machines/cold press forms
Injection molding machines/ die casting
CNC shear machines
CNC Sheet straightening machines
CNC Rolling mills machines
CNC corrugation machines
Stainless steel workshop
Cold Galvanization
HDG Galvanization
Powder paint workshop
Wet paint workshop
and many other metalworking machinery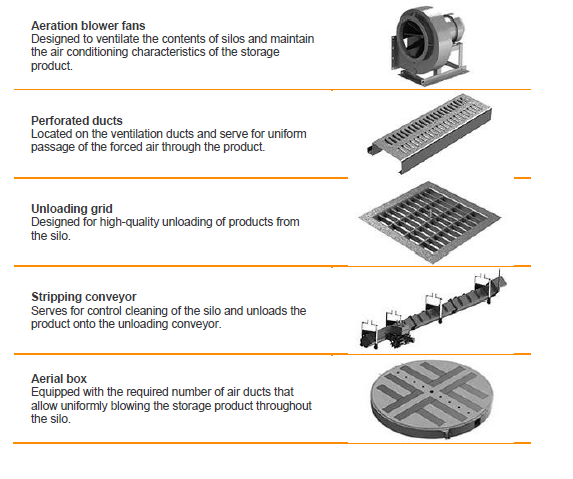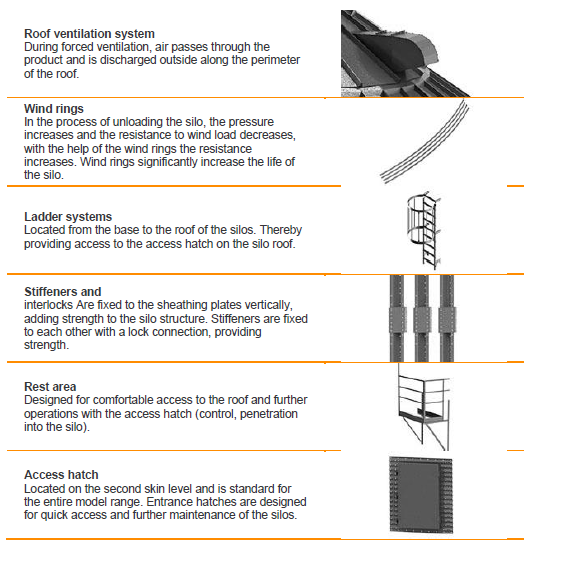 2- CEREAL DRYERS
Drying facilities are designed to remove moisture from cereals (which include wheat, rice, barley, corn) by

evaporation, which allows their subsequent storage. According to grain storage technology, drying is done at temperatures below boiling point, under certain conditions of temperature, humidity level and amount of air.

The drying process takes place during the passage of hot air on the surface of the cereals through a cross flow, in the drying plant the grains become more and more dry, descending closer to the base. The drying chambers have special cone-shaped cells, which allow the air to distribute evenly and maintain the same thickness of grain subjected to the drying process. All this allows to obtain an optimal drying efficiency and an optimal quality of the cereals.

Air recirculation is achieved due to the large centrifugal electric fans, which ensure:
low rotation speed;
high dynamic efficiency;
low emissions and low noise pollution.

The physical balance between the grain and the warm air that enters, allows it to enter the collector, saturating the moisture at the top, without being saturated at the bottom.
Moisture-saturated air from the top of the tower is removed into the atmosphere through a duct located at the top of the collector.
The air at the bottom of the tower (the air after cooling, as well as from the heat generator participates in the last drying phase; it has a low percentage of humidity and temperature of 40-60 ° C, it is absorbed and sent to the second heat generator for re-heating and use in grain drying processes at the top of the drying tower.
The middle part of the drying tower plays an important role – between the depression phase and the suction phase is placed a renewal area, where the grain condenses internal moisture on its surface, which in turn evaporates in the last drying phase.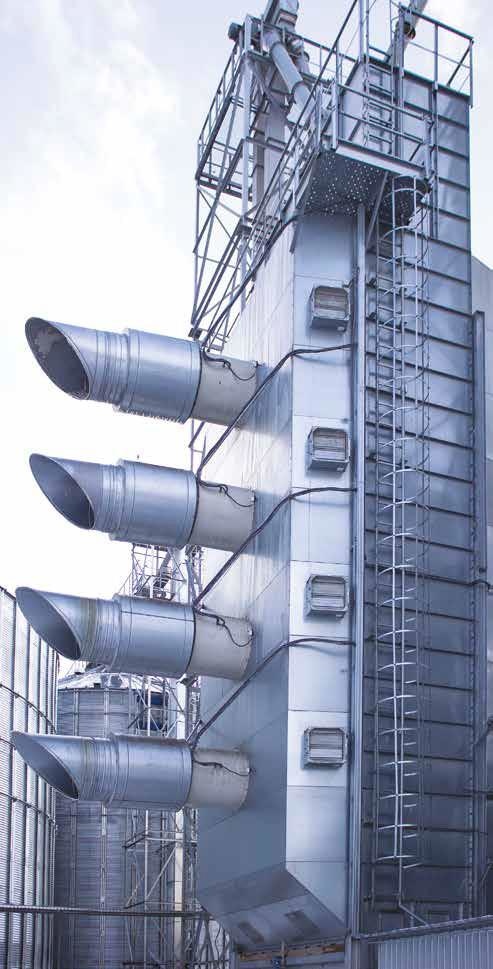 3- TRANSPORT EQUIPMENT
| | |
| --- | --- |
| Main purpose of the bucket conveyor is to transport both grain and other bulk products. There are following advantages of grain bucket conveyors: minimum damage of grain, reliability and durability, minimum consumption of power, opportunity of operation in the open air. | |
| | КSC scraper chain conveyors are designed for horizontal, inclined and horizontal-inclined transport of cereal crops and other bulk products. Conveyors can be used outdoors in all climatic zones. |
| A screw sweep conveyor is a conveying device, which is used to clean the grain leftovers after SVF-type silos with the diameter from 11 to 32 meters. | |
| | Belt conveyor is a conveying device with continuous operation, which is intended to transfer the bulk cargo when loading and unloading the  elevator. This conveyor delivers the bulk goods to the conveying place with reduced impact. |
BUY GRAIN TRANSPORT EQUIPMENT FROM UKRAINE
Grain handling equipment allows you to move your grain from one place to another quickly. At the same time, the grain does not lose its original properties. Such equipment is recommended to be used both in large elevator complexes and on farms. What installations are worth buying and where to do it?
Equipment that will help organize the transport of grain at the highest level!
Grain handling equipment allows you to get the most out of your business. Cereals can be moved horizontally or tilted. The angle of inclination depends on the type of conveyor used, which can be opened or closed. The choice must be based on the purpose for which this project will be used.
The following grain equipment is in high demand today:
Noria elevator – with its help cereal crops can be transported vertically. The advantages of this design are increased reliability, long life and relatively low energy consumption. This lift is equipped with an imported engine. There are explosion arresters as well as sensors for lane deflection, speed control, etc.
Scraper chain conveyor. Allows you to move crops horizontally, tilted, as well as tilted horizontally. This design can be used outdoors in a region with any climate. This conveyor is supplied in different configurations – it all depends on the customer's needs. Black steel can be used to make this device, which is then painted. It can be equipped with units that fit on the drive shaft or with flexible drives.
Equipment for transporting grain at a low price!
In our company, everyone can buy transport equipment for grain. We offer exclusively original installations. If necessary, you can order equipment for dairy farms and pig farms from us.
The price for grain transport equipment is affordable. All thanks to our own production. For the manufacture of these structures, we use reliable and safe materials and always take into account the wishes of the customer. The performance characteristics of our products are confirmed by appropriate certificates. If you are interested in the best grain handling equipment, contact us.
Certifications and Norms:
EN ISO 3834-1  by TUV Rheinland Germany
EN ISO 3834-4 by TUV Rheinland Germany
EN 1090-1 by TUV Rheinland Germany
EN 1090-2 by TUV Rheinland Germany
EN 1090-3 by  TUV Rheinland Germany
ISO 9001:2015 by Bureau Veritas UKAS
Gost certification for all materials and productions