SalesBridges
Diagonal Arrays
Fodder table barriers with  diagonal fodder arrays are used for calves and cattle, also diagonal or Z-shaped fodder arrays are used when fixation is not needed. They are simple and effectively prevent penetration of animals onto fodder table, reduce scatt
Product description
Diagonal Arrays
Fodder table barriers with  diagonal fodder arrays are used for calves and cattle, also diagonal or Z-shaped fodder arrays are used when fixation is not needed.
They are simple and effectively prevent penetration of animals onto fodder table, reduce scattering and loss of fodder. The size of diagonal cells varies depending of cattle age groups.
The use of the diagonal fence ensures that the food cannot rise. The fences are applied to each other, which ensures a fixed system.
Hot-dip galvanized steel for a long life, protected against corrosion and rust.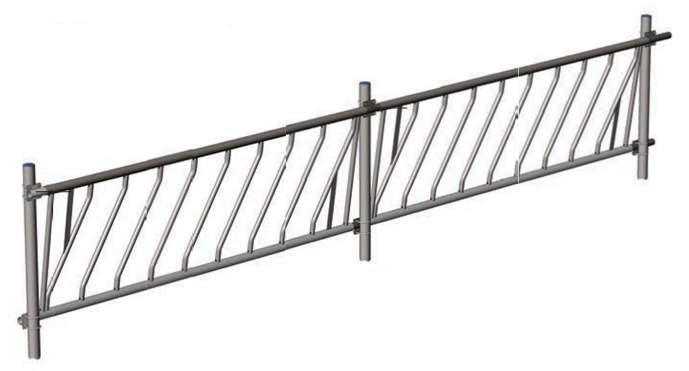 Available for the following age groups in the following sizes:
Age group 6-12 months:
Diagonal Arrays with 7 places of 290 mm - total length of 3250 mm
Diagonal Arrays with 6 places of 290 mm - total length of 2950 mm
Diagonal Arrays with 4 places of 290 mm - total length of 2120 mm
Diagonal Arrays with 2 places of 290 mm - total length of 1450 mm
Age group 3-6 months:
Diagonal Arrays with 8 places of 240 mm - total length of 3250 mm
Diagonal Arrays with 7 places of 240 mm - total length of 2900 mm
Diagonal Arrays with 5 places of 240 mm - total length of 2200 mm
Diagonal Arrays with 3 places of 240 mm - total length of 1600 mm
Age group 2-3 months
Diagonal Arrays with 10 places of 200 mm - total length of 3250 mm
Diagonal Arrays with 8 places of 200 mm - total length of 2750 mm
Diagonal Arrays with 6 places of 200 mm - total length of 2250 mm
Diagonal Arrays with 4 places of 200 mm - total length of 1650 mm
Product information
| | |
| --- | --- |
| Brand | SalesBridges |
| Article code | SBVABPK7-290 |
| SKU | SBVABPK7-290 |
| EAN | 2006365261320 |