Salesbridges
Cigarette-Butt Receptacles Outdoor Ashtray - Grey
EUR 89,95 Excl. tax EUR 108,84 Incl. tax
Enhance your business image and keep entrances clean from cigarette litter, with minimal maintenance. Made of flame-retardant and sturdy polyethylene that won't rust, dent or crack. Volume 18 liters. Available in 5 different colors
Product description
Cigarette-Butt Receptacles Outdoor Ashtray - Gray
Enhance your business image and keep entrances clean from cigarette litter, with minimal maintenance. Manufactured from flame retardant and tough polyethylene that will not rust, dent or crack. With an innovative self-extinguishing design safely collects unsightly cigarette waste and reduces the risk of fire.
Independently tested and approved by FM Approvals. Mounting points at the bottom prevent theft and provide extra stability in harsh weather conditions
The containers contain a galvanized steel bucket that collects thousands of butts.
Low maintenance and cleaning costs Made of extremely robust, special fire-retardant plastic. the self-extinguishing due to reduced oxygen supply
Rain-protected insertion opening on both sides, Ø 38 mm
Stable, floor anchoring possible.
Large inner bucket made of galvanized sheet steel is easy to clean Easy opening with twist lock
For cigarette butts only. Not suitable for other waste
The bag and smoker container when used together form an FM approved system.
The bucket bag is for hygienic purposes and only for use in the Smoker Cease-Fire System.
Outdoor Ashtray, Made of flame-retardant and sturdy Polyethylene, Collects unsightly cigarette litter and reduces the risk of fire—Fire tested and approved for safety by FM Approvals-Available in different colors.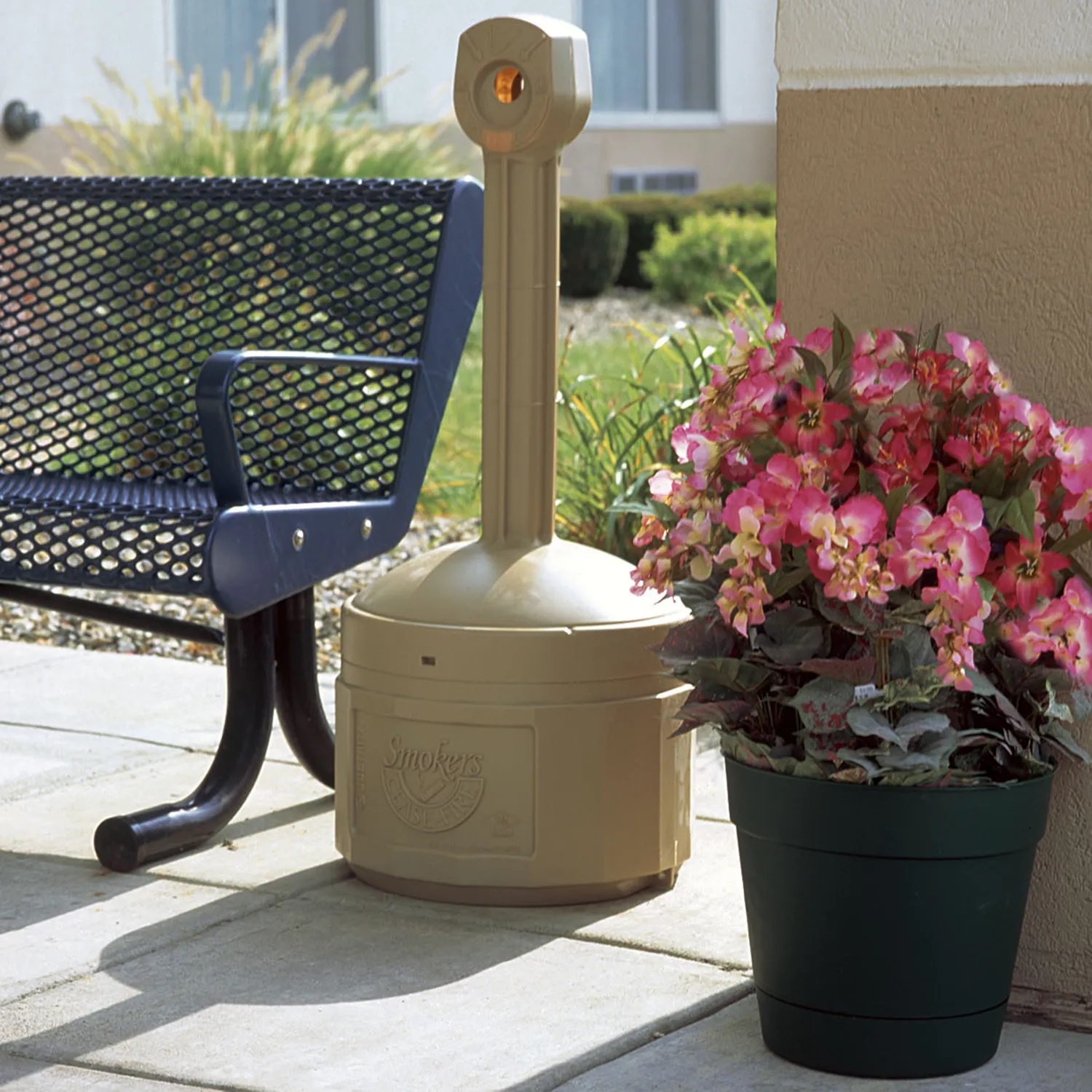 Made of Polyethylene

Height :38.5"(978 mm) 

Outer Diameter:16.5"(419 mm)

Weight: 3.7Kg (81lb)

Liter capacity : 15L (4 Gallon)

Available Color: Black, Grey, Beige, Terra cotta, Green
Used indoor/outdoor 
High quality product with nice look and finishing, ideal for restaurants, hotels, shopping malls, workplaces, factories...easy to place and clean, Its lid is made of a flame-retardant polyethylene so there's no risk of rust, dents or cracks, and the galvanized steel bucket can hold up to 4 gal (15 l) of litter.
Fire tested 

ADA compliant
Product information
| | |
| --- | --- |
| Brand | Salesbridges |
| Article code | SBCB2680G |
| SKU | SBCB2680G |
| EAN | 9502413935913 |