Cable Bridge with Cover 2 tunnels Ø 30 mm cable protection
€129,95 Incl. tax
SalesBridges
Cable Bridge with Cover 2 tunnels Ø 30 mm cable protection
EUR 129,95 Excl. tax EUR 157,24 Incl. tax
The modular Crash Stop cable bridges with cover are a reliable protection for cables and small hoses in walking and driving paths or at events. The modular cable bridge system offers an easy installation by one person. The axle load of the item is 5t. Rec
Product description
Cable Bridge with Cover 2 tunnels Ø 30 mm cable protection.
The modular Crash Stop cable bridges with cover are a reliable protection for cables and small hoses in walking and driving paths or at events. The modular cable bridge system offers an easy installation by one person. The axle load of the item is 5t. Recommended overrun speed: 5-10 km/h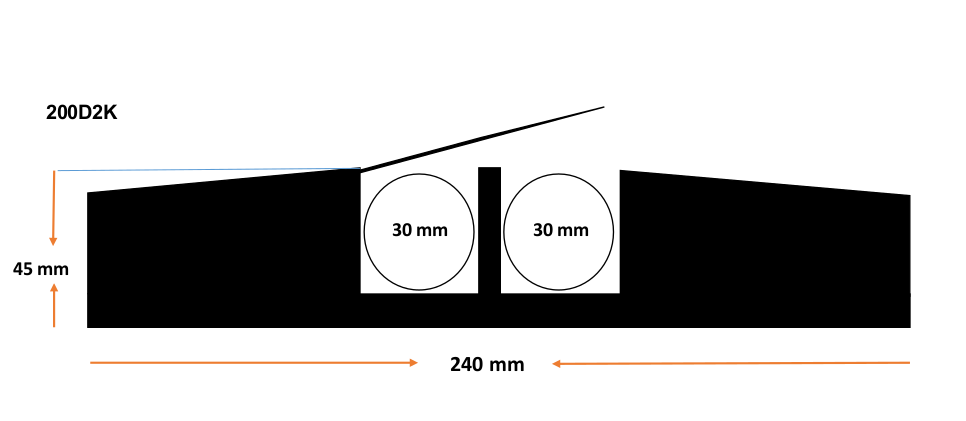 Length: 980 mm
Width: 240 mm
Height: 45 mm
No of cable tunnels: 2
Size tunnel: 32 x 30 mm
Size cable: 30 mm
Net weight: 6,5 kg
Material: Rubber
Color: Black with yellow lid
For indoor and outdoor use 
The yellow-black colour allows fast recognition and ensures the traffic participants. The individual elements can be combined with one another via the connectors located on the side. The cables can be inserted easily from above. The different versions allow a safe protection by the cable guides located inside. The lid is made of a high-strength plastic. The chamfered longsides allow the cable bridges to be crossed easily to allow trouble-free traffic flow.
| Art. No. | Description | Length x Width | Height | Weight | Axle load |
| --- | --- | --- | --- | --- | --- |
| SBKB200D2 | 2 channels, with handle | 980 x 240 mm | 45 mm | 6,5 kg | 5t |
| SBKB200D3 | 3 channels, with handle | 900 x 500 mm | 70 mm | 16,5 kg | 8t |
| SBKB200D5 | 5 channels, with handle | 900 x 500 mm | 50 mm | 17,0 kg | 8t |
| SBKB200D3R | 45° Winkel to the right, 3 channels | 500 mm | 70 mm | 7,5 kg | 8t |
| SBKB200D3L | 45° Winkel to the left, 3 channels | 500 mm | 70 mm | 7,5 kg | 8t |
| SBKB200D5R | 45° Winkel to the right, 5 channels | 500 mm | 50 mm | 6 kg | 8t |
| SBKB200D5L | 45° Winkel to the left, 5 channels | 500 mm | 50 mm | 6 kg | 8t |
Made in EU
Product information
| | |
| --- | --- |
| Brand | SalesBridges |
| Article code | SBKB200D2 |
| SKU | SBKB200D2 |
| EAN | 9501583226654 |