Waste Rolcontainers Dustbins on Wheels
Waste Rolcontainers Dustbins on Wheels available in 120L 140L 240L 360L 660L 770L 1100L 1700L 2000L in different colors.
Read more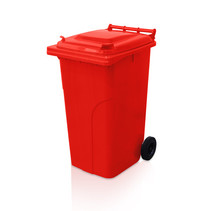 WIJ ZIJN OPEN

SNELLE VERZENDING

AFHALEN OP AFSPRAAK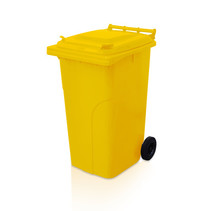 Plastic Rollcontainers
Dustbins on Wheels
Plastic containers
Dustbins on wheels
Made of HDPE
Produced according to DIN
Durable with reinforced bottom in conical shape
Always perfect sorting of waste by color
Meeting all requirements of garage companies
Easily movable plastic containers on wheels for convenience in use. Easy to maintain and clean. For both indoor and outdoor use. Made from high density HDPE, polyethylene for long-term use.
Available in the colors: black, red, blue, green, yellow and brown.
Variants: 120L and 240L
Dimensions 120L
Length: 48 cm
Width: 55 cm
Height: 93 cm
Material: HDPE
Volume: 120 L
Capacity: 60 kg
Dimensions 240L
Length: 58 cm
Width: 73 cm
Height: 107 cm
Material: HDPE
Volume: 240 L
Capacity: 80 kg