Variflex Formwork System

Variflex Formwork System/Formwork for concrete slab
Slab Formwork Variflex: Is a conventional prop formwork system for flat slabs forming and shoring. Having only 5 main components, the system is fast and easily assembled, consequently operational. Further, time and labor costs are optimized. VARIFLEX adapts to any slab applications due to beams overlap and the fact that the props can be placed anywhere along the main beam. Simply by changing 3 variables (distance between main rows, distance between props in the main row and distance between secondary beams), the system can be applied to any load.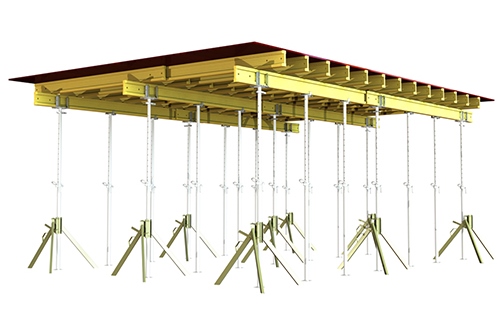 Load-bearing capacity:
Due to its load-bearing flexibility, VARIFLEX can be adapted to withstand loads of fresh concrete of different kinds of slab thicknesses. Optimal and cost-effective use within the range of slab thicknesses up to 500 mm;
Maximum formwork height—6.0 m.
Cost effective:
Fewer parts speed up assembly;
Assembly, stripping and disassembly by hand;
High number of use cycles means lower follow-up expenses;
Reduction of expenses by means of system adaptability;
Galvanized or powder coated elements, for long service life.
System Adaptability:
Easily adapts to different and varying layouts, especially in case of irregular geometrics, specific load cases, different slab thicknesses.
Easy handling and planning:
All the connectors and accessories are easily fixed into the slots and quickly tighten, consequently forming time is efficient and maximized;
Any requirements for architectural concrete flat slab design can be met.
Safe use:
Accessories such as — handrail makes for save and easier handling of the system;
Safe working during assembly.
The key benefit of Variflex is its easy adaptation to different and varying layouts. Owing to relatively low material costs, Variflex allows for cost-effective solutions even for several concrete pours.
Fewer parts speed up assembly process;
Assembly and stripping by hand without crane;
Adaptation to all kind of slab thicknesses and layouts;
Free choice of facing;
Free choice of Variant props.
Slab Formwork Variflex is easily adjusted to any construction plan of any complexity.
All details are matched to each other accurately and compatibly with elements made by other leading formwork manufactures and can be easily combined. Supports stand numerous cycles of usage. The support height can be regulated step-by-step and gradually in order to set any slab height in whole range.
Availability of wide range of supports, tripods and heads gives an opportunity to choose reasonable and efficient set to satisfy different requirements of construction sites both during industrial and private construction.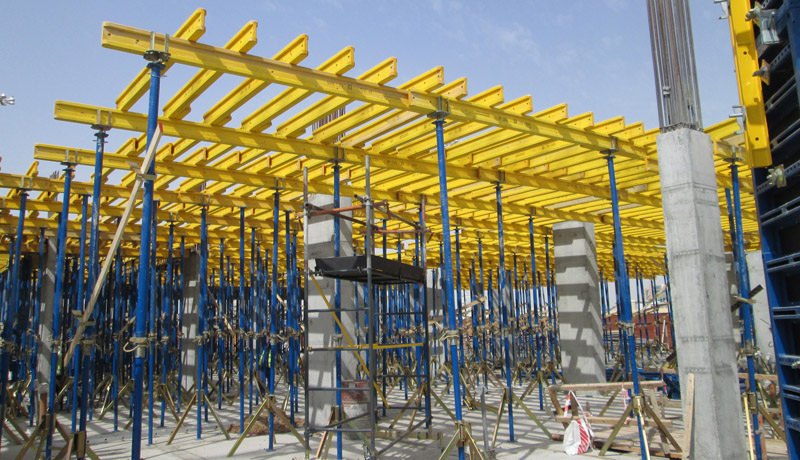 Heavy duty prop RBGU
Meets the standards used by European formwork system manufactures. Working threaded part of support is galvanized.
RBGU supports are intended for installation of formwork beams in industrial and civil construction with the formwork height from 0,965 to 6,0m.


Features:
1. simple assembly and dismantling
2. Accuracy of height adjustment
3. Self-cleaning exposed thread
Tripods:
Tripod W
It is used as a support "build up" aid. The pivoted tripod makes the "build up" in limited space near walls and in the corners easy. Lock design allows to fasten support with the diameter from 55 to 85mm. working position height is 760mm. There is a handle provided for carrying.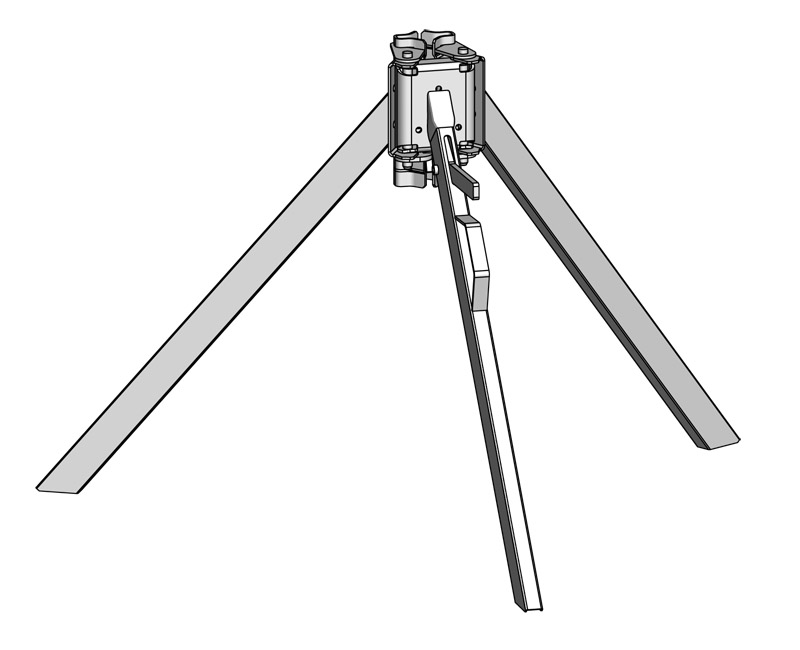 Tripod L 
It is used as a support "build up" aid. The pivoted tripod makes the "build up" in limited space near walls and in the corners easy. Design of support clamping lock. Working position height is 850mm.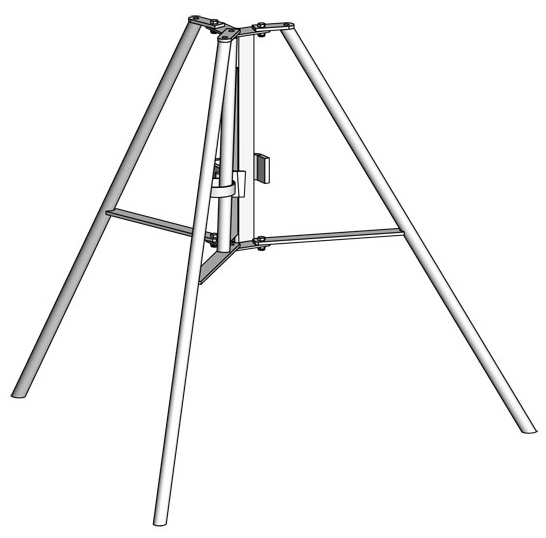 Tripod L light
It is intended for RBG, RBGE supports as an efficient variant reducing the cost of the formwork set.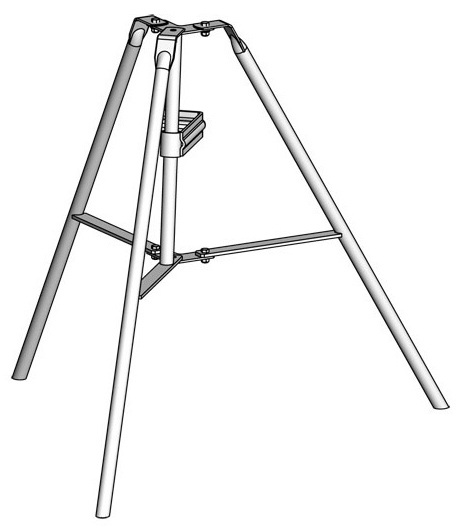 Heads:
Lowering head, lowering head extra
It holds longitudinal formwork beams along edges and at criscrosses. When stripping one hit with a hammer on a unblock wedge is enough to lower the formwork for 6cm allowing removing the cross formwork beams and plywood deck. After formwork stripped the plywood plates and beams can be further used, and only supports are left not allowing slabs to sink.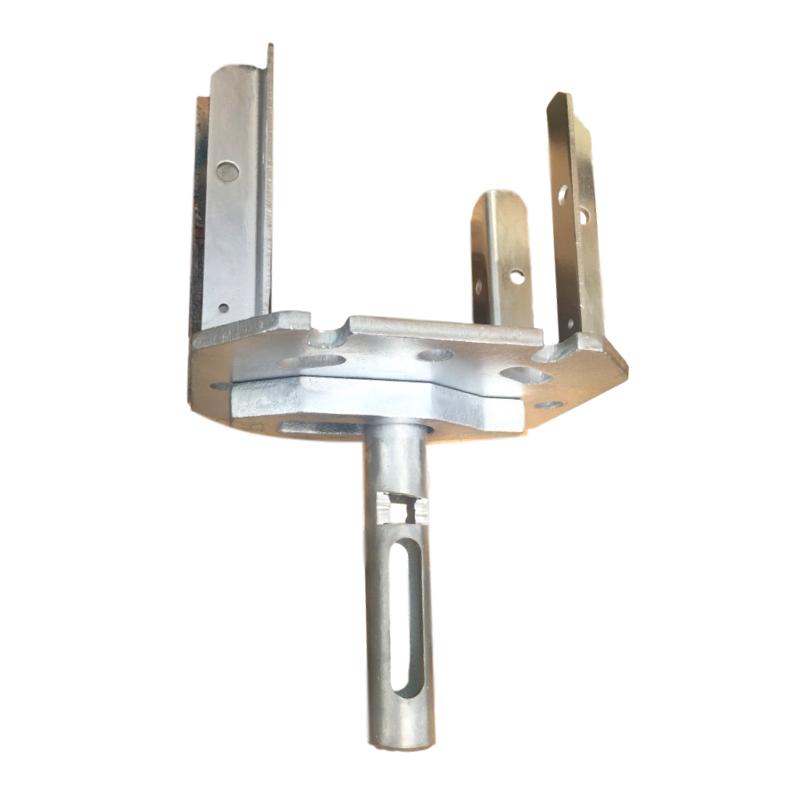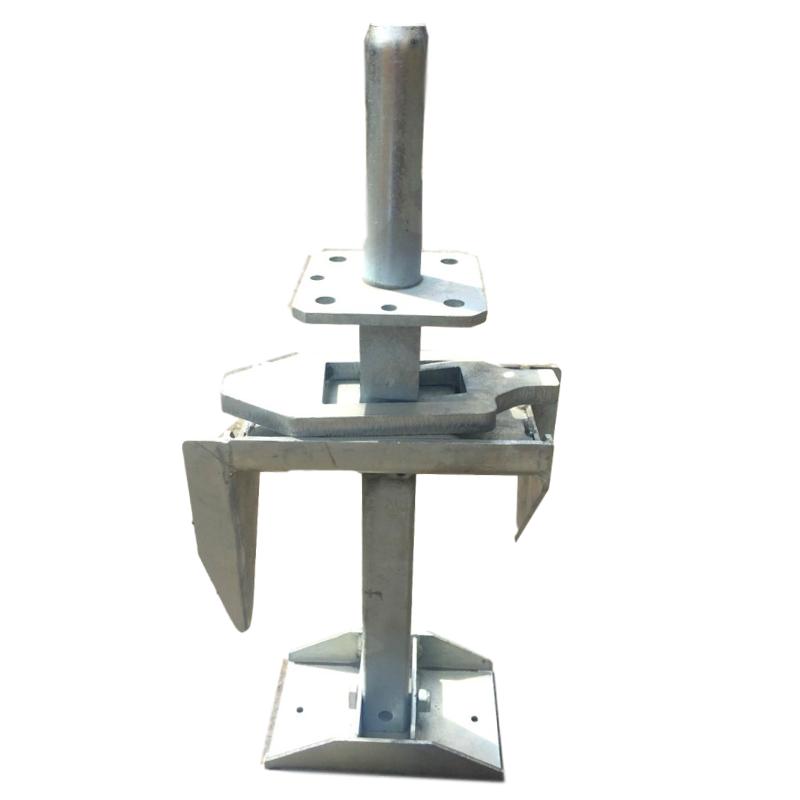 Support head
It holds intermediate supports.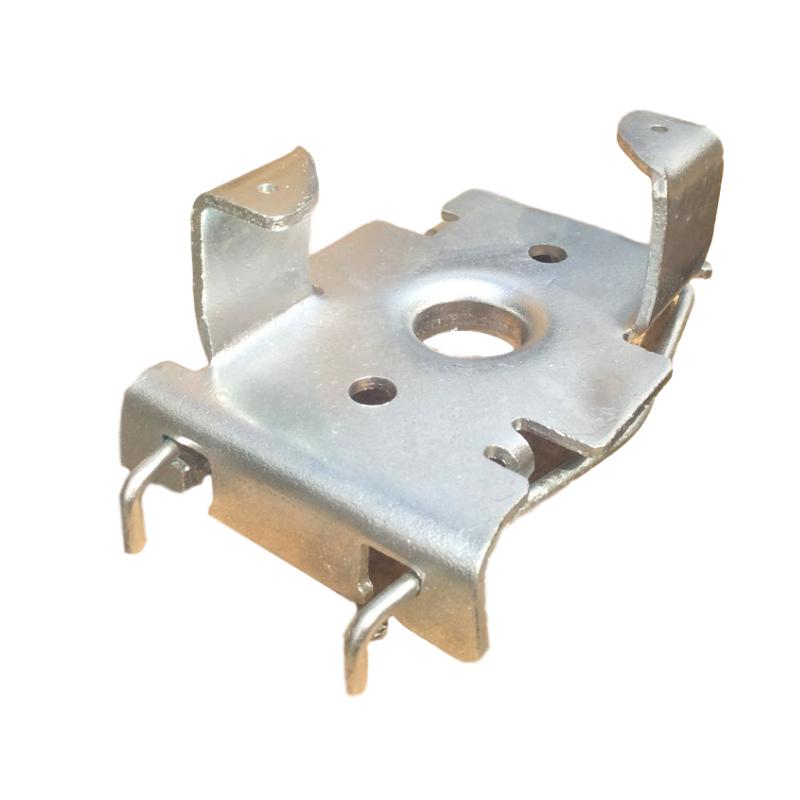 Crown head/Crown head light
Simple and efficient way for slabs encasing.